Imagine adding the dramatic impact of fire to your attraction or exhibit, without worrying about the safety issues associated with real flame. FauxFire® is a simulated fake fire system that uses steam and specialty lighting to create the most realistic fake fire effect on the market today.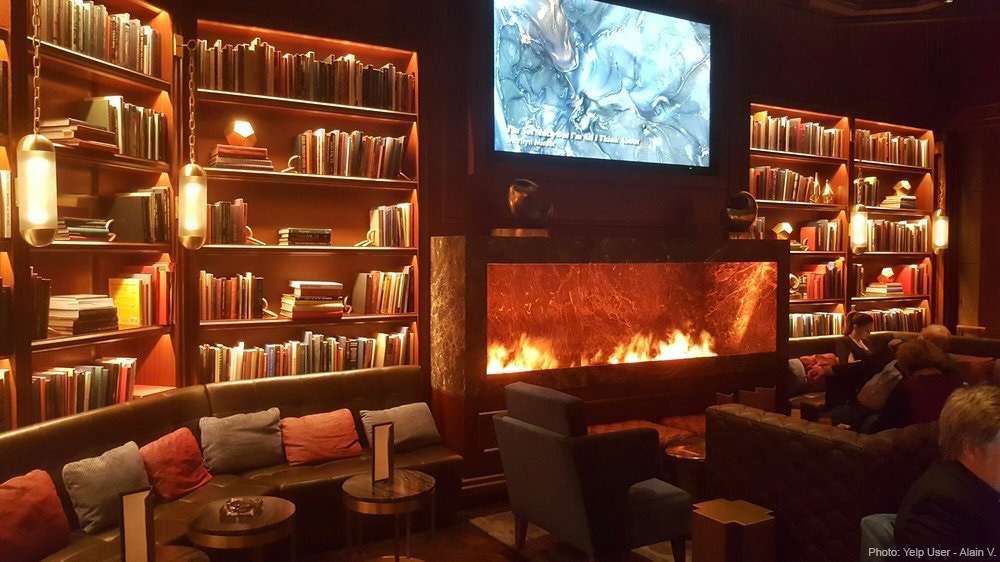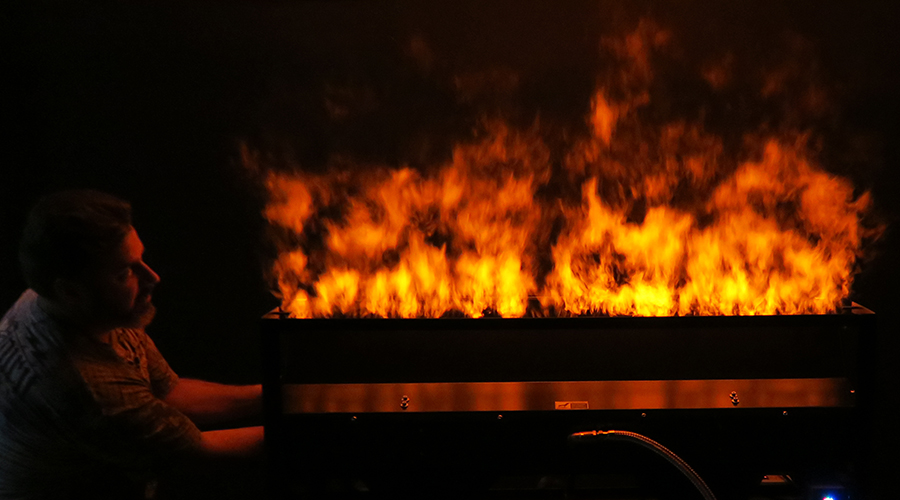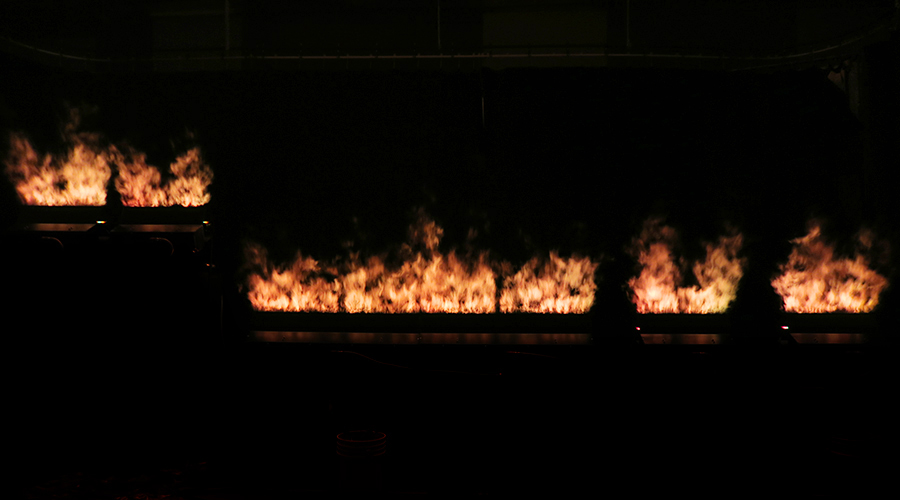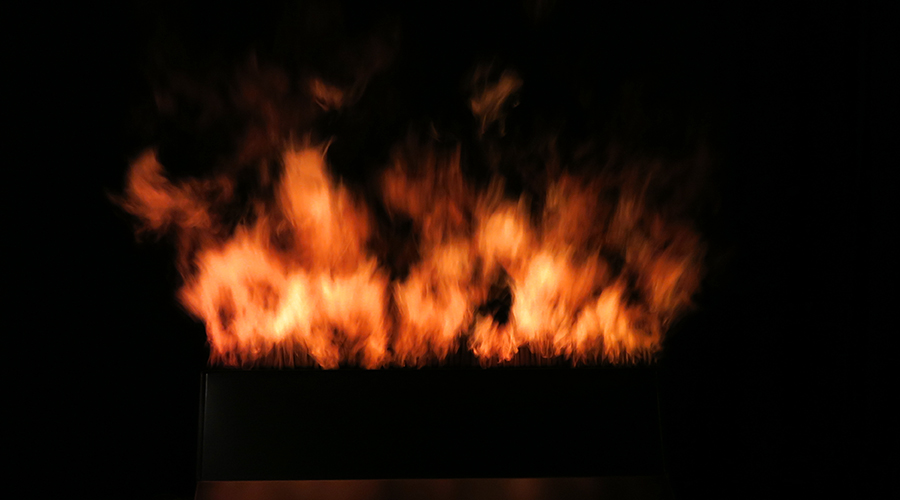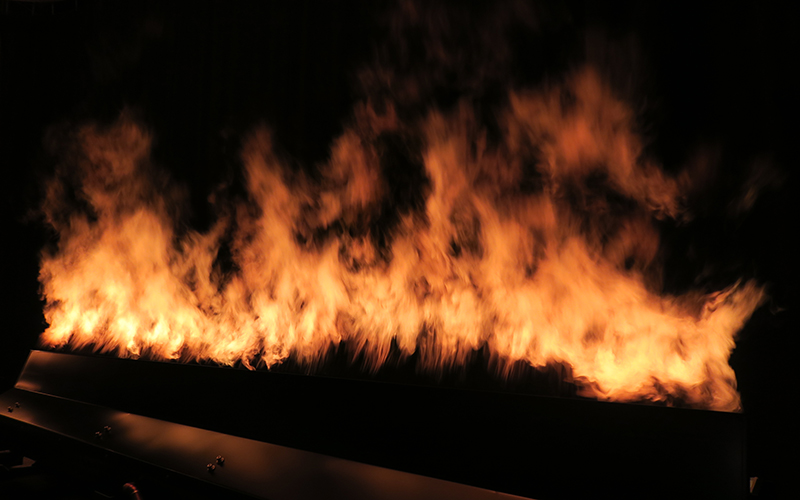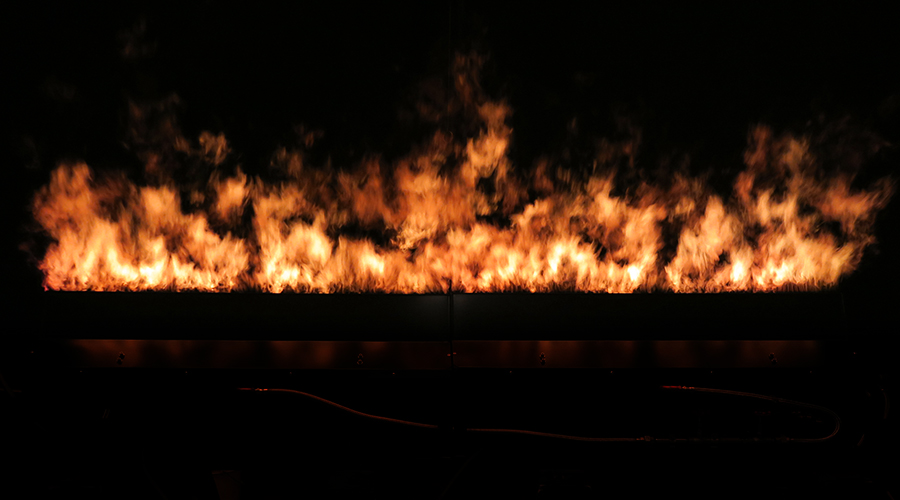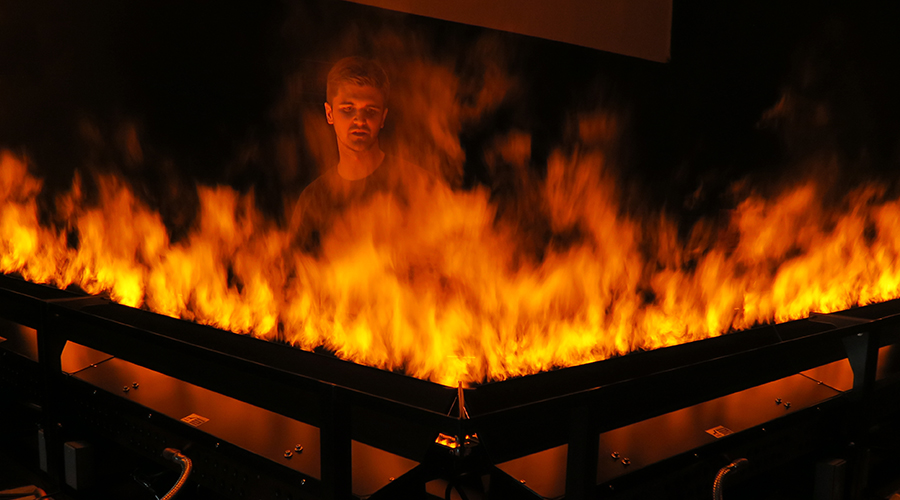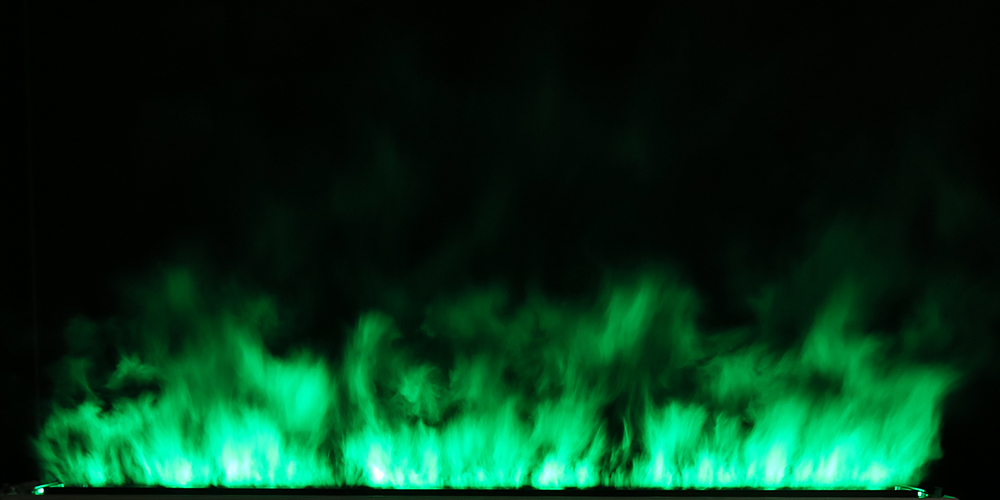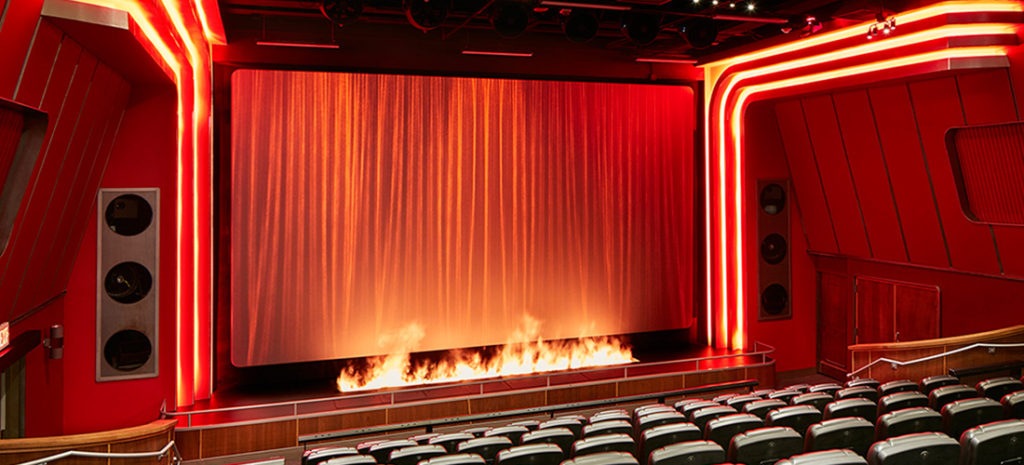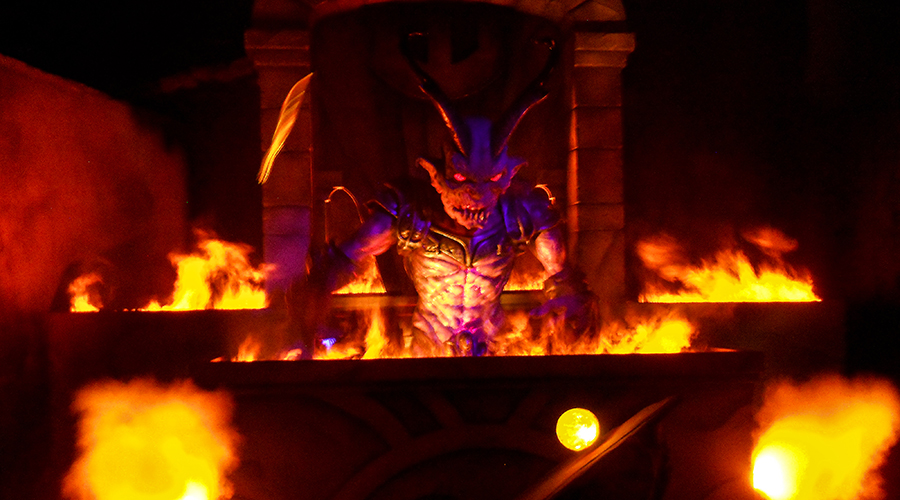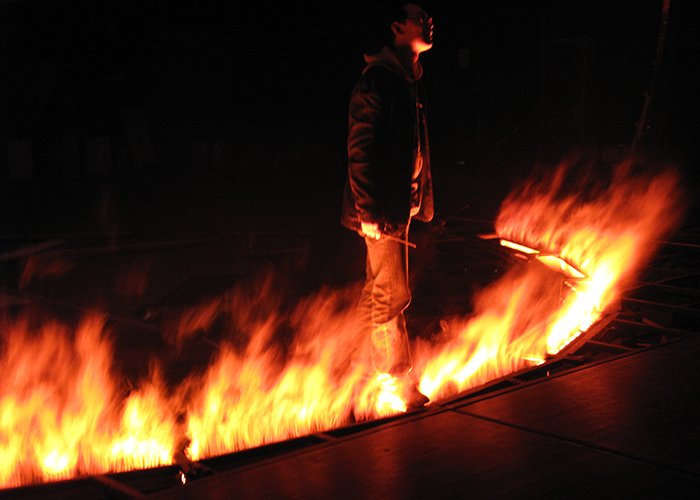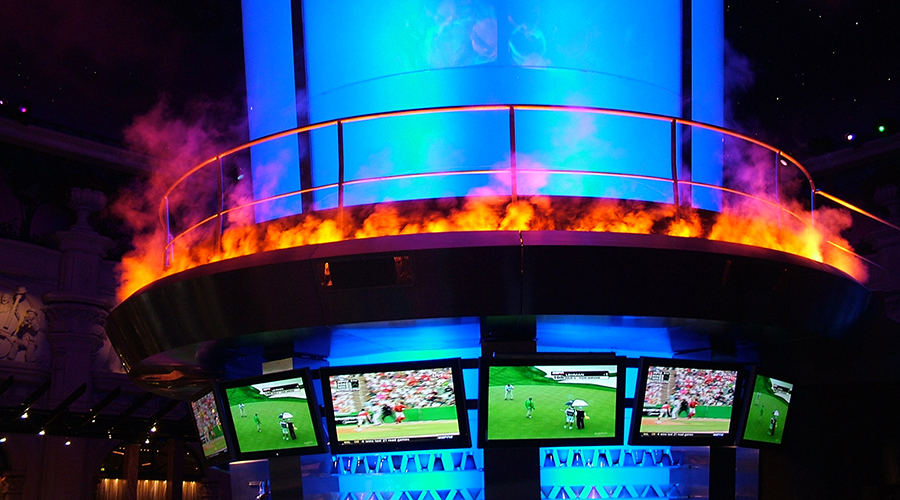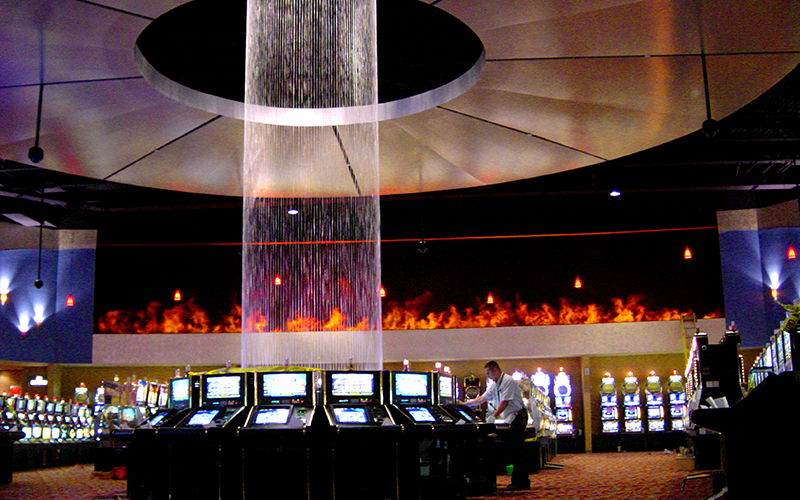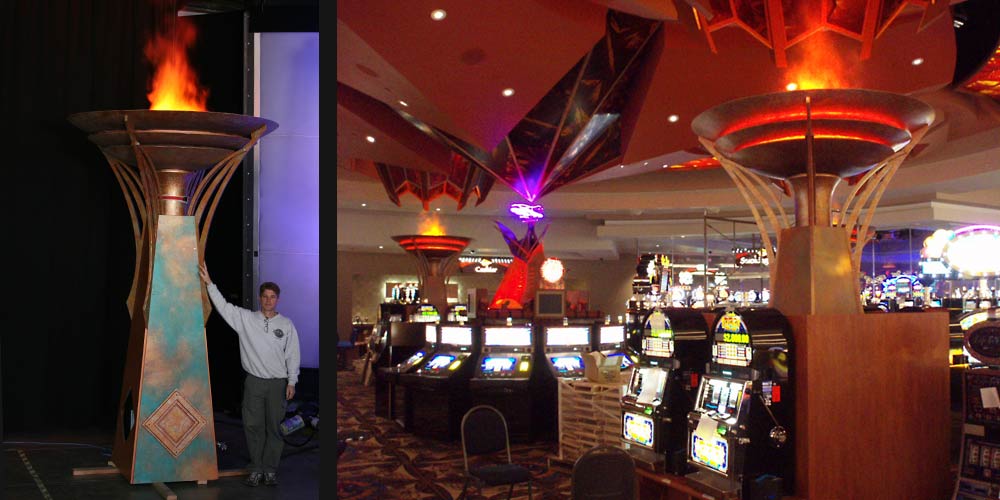 FauxFire® is a patented simulated flame system that lets you harness the power of "fire". Using steam and specialty lighting, Technifex has created fake fire in the most realistic and safe way to bring the impact of flames to your displays or attractions. Since there are no chemicals or smoke to deal with FauxFire® simulated flame system can be used in most venues.
Uses steam and specialty lighting.
Available in 2' (610mm), 4'(1220mm), 6′(1828mm) and 8'(2440mm) straight manifolds.
Manifolds can be assembled in curved or straight layouts.
Link manifolds to create longer displays.
Flame height of 12″ -30″ (305mm – 762mm).
Create colored flames with customized LED lighting.
Can be viewable from both sides with Dual Light option.
No chemicals or smoke fluid required.
Safe to touch.
Easy to operate.
Requires very little service.
Custom designed for your installation.
Basic FauxFire® Components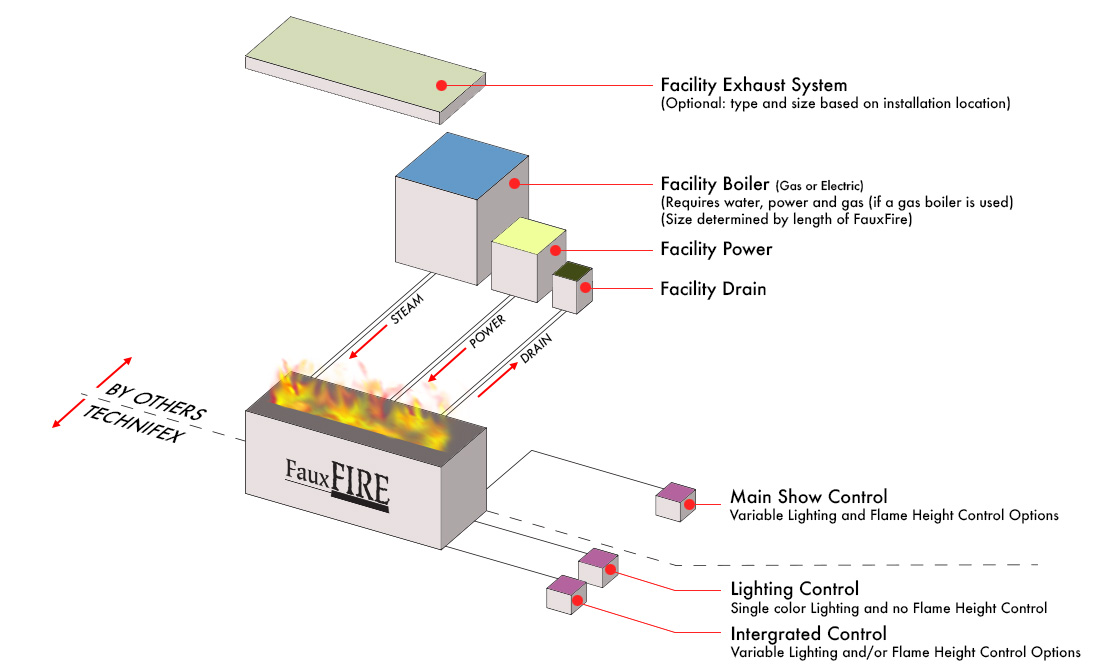 U.S. Patents: # 6,685,574 B2 # 6,802,782 B2 # 7,762,897 B2 # 6,953,401 B2
Canadian Patent: # 2,467,949 #2,590,828
Standard FauxFire® Options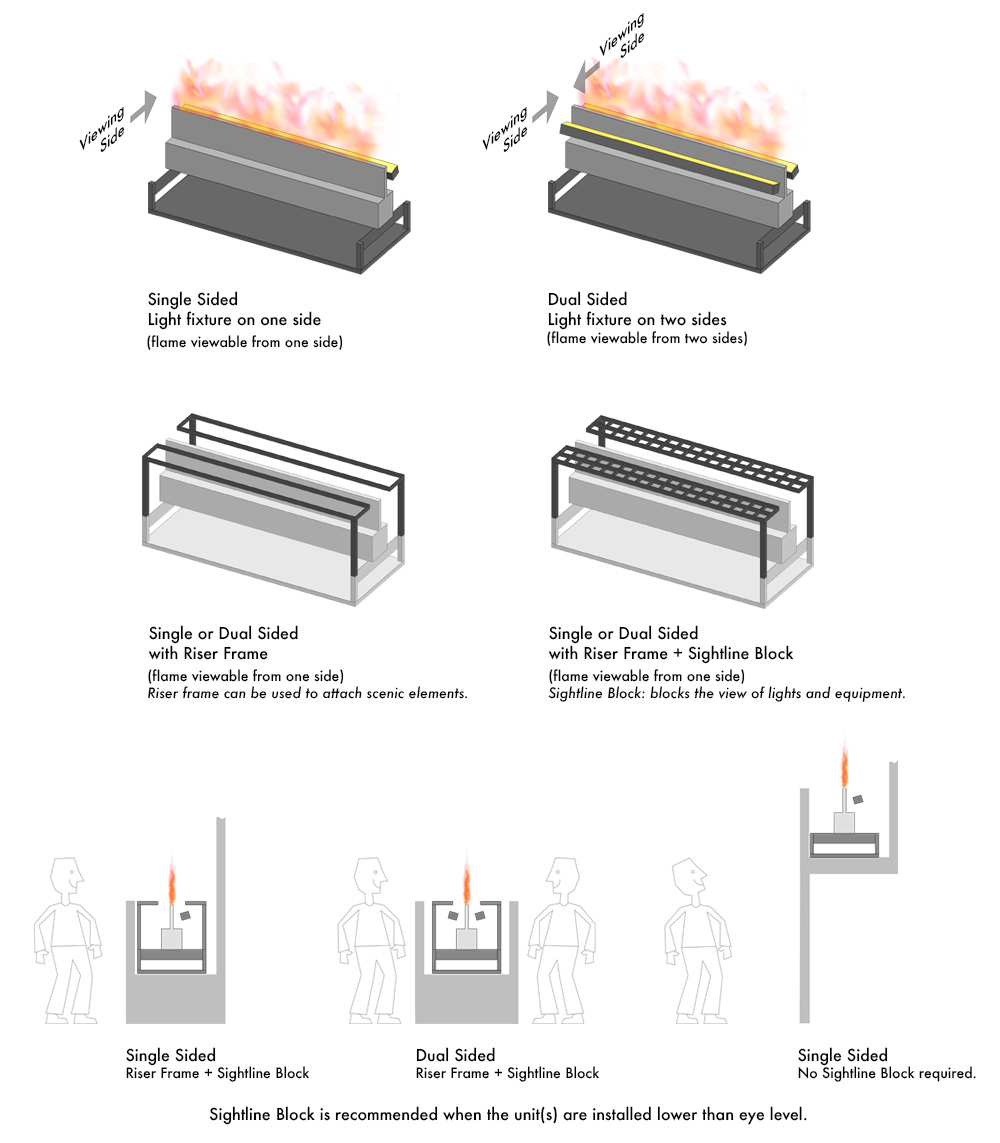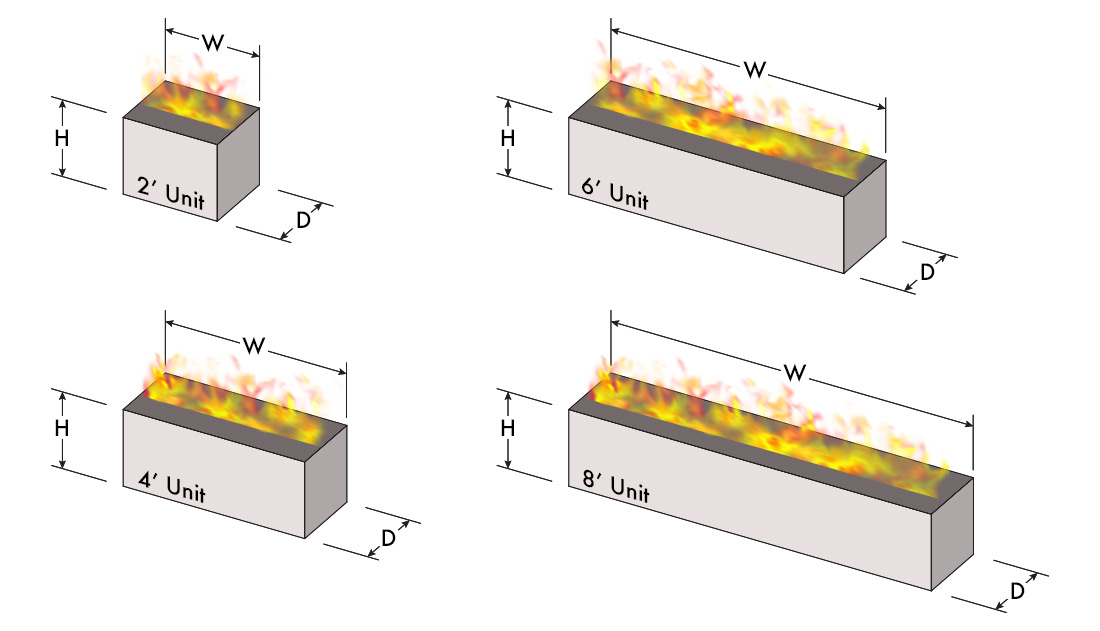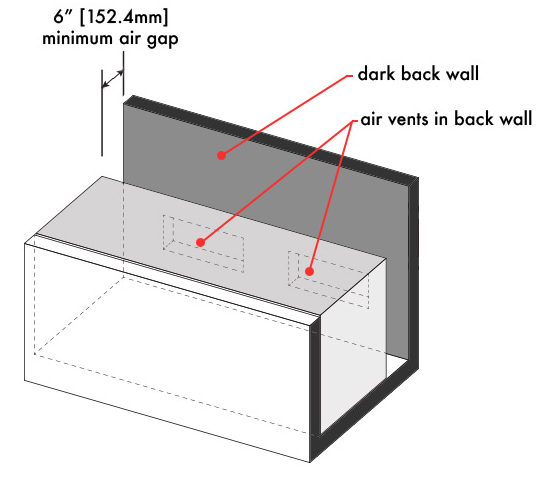 2′ Unit:

W = 25.78″ [654.7mm]
H = 21.00″ [533.4mm]
D = 20.00″ [508.0mm]
4 Unit:

W = 49.77″ [1264.2mm]
H = 21.00″ [533.4mm]
D = 20.00″ [508.0mm]
6′ Unit:

W = 75.40″ [1915.2mm]
H = 21.00″ [533.4mm]
D = 20.00″ [508.0mm]
8′ Unit:

W = 99.40″ [2524.8mm]
H = 21.00″ [533.4mm]
D = 20.00″ [508.0mm]
*Please contact us about your proposed layout, we will do our best to accommodate your particular facility.
---
Power Requirements: (Power requirements will vary depending on which FauxFire options are selected)
Valve/Fan Switch: 120VAC 20A(Must be same phase) 1/2″ Conduit
CBX-ST Box and/or D-Box: 120-240VAC 10A 1/2″ Conduit
FauxFire Main Control: 120-240VAC 10A 1/2″ Conduit
Steam Requirements:
FauxFire Steam at Stub-up = 90 psi
See FAQ sections for more information.
FauxFire FAQ
What is FauxFire®?

Technifex Products patented FauxFire® system is designed to produce a realistic simulation of flames, using low-pressure steam from a boiler, coupled with unique animation and lighting devices.
The effect comprises three main elements:

A special manifold designed to produce a thin, steady curtain of rising steam.
Animation blowers directed at the curtain to produce flame-like turbulence in the steam
LED lights provide coloration of the "flame" effect

FauxFire appliances work optimally when they are adjusted to produce "flames" at a maximum height of 12″-30″ (305mm – 762mm).  The effect may be adjusted to lower levels, if appropriate for the venue.
How large is the equipment?

FauxFire appliances are produced as standardized units, in straight lengths:

2′ Unit:

W = 25.78″ [654.7mm]
H = 21.00″ [533.4mm]
D = 20.00″ [508.0mm]

4 Unit:

W = 49.77″ [1264.2mm]
H = 21.00″ [533.4mm]
D = 20.00″ [508.0mm]

6′ Unit:

W = 75.40″ [1915.2mm]
H = 21.00″ [533.4mm]
D = 20.00″ [508.0mm]

8′ Unit:

W = 99.40″ [2524.8mm]
H = 21.00″ [533.4mm]
D = 20.00″ [508.0mm]
Can FauxFire appliances be used in a curved or circular pattern?

A FauxFire effect can be created as a segmented arc or circle, using Technifex Products standard straight appliances, within the limits of the required space.  It must be noted that there may be gaps in the flame effect in this configuration.  There are methods for dealing with this, which we can suggest on a case-by-case basis.
Is the FauxFire effect viewable from both sides?

The FauxFire can be made viewable from both sides with the Dual Light option.
Can FauxFire be placed at floor level?

The FauxFire appliances should be placed such that guests will not be able to see the equipment that produces the effect.  That being said, the equipment can be placed in a trough below floor level such that the FauxFire appears to emanate at floor level.
An optional Light Block can be added to lessen the visibility of the light fixtures.
Can the effect be covered for concealment of equipment?

If the effect is to be of the highest quality, the top of the equipment space must be open and unobstructed.  Any type of cover interferes with the animation and lighting and can cause the effect to be compromised.  In specific stage situations, Technifex has had success using certain types of metal grating over the top of our FauxFire equipment.  Though the grating can affect the appearance of the FauxFire to a degree, none of our clients have found this to be a problem.
The base to the equipment can be surrounded with a low wall or other scenic, as long as a minimum 6″

 

air gap is maintained to allow for proper ventilation.
Are there other usage considerations?

The FauxFire effect is not generally sold for outdoor applications because there is usually limited control over air currents (wind) and ambient light levels. However, the system can be utilized outdoors at night, if the conditions are controlled.
For proper visual appearance, the ambient lighting around the FauxFire appliances should be controlled so as not to "wash out" the effect since this is ultimately a lighting effect.  Also, the background against which the FauxFire effect is viewed should be kept as dark as possible, black being optimal.
Though there are two forms of FauxFire systems, (smoke and steam) we generally sell the steam based system for permanent and long term applications due to the ease of service, reliable nature of boiler systems and the fact that steam is a water based product.  The smoke version is oil based (Propylene Glycol) and is generally used for short term applications such as trade shows and special events.
Are there equipment options available?

Equipment options for FauxFire are as follows:

A single solenoid-operated valve for turning the steam on and off under electrical control.
Dual solenoid-operated valves and manual adjusting valves for creating three operating flame heights (high/medium/low) under electrical control.
Dual Light (Unit is viewable from both sides)
Single Color LED Lighting
Full RGB LED Lighting
A DMX lighting board, if DMX control is desired, and the facility does not have the capability.
Extra animation blowers, which are sometimes needed when Faux Fire appliances are arranged in a curve or circle.
Optional relay modules for DMX control of the steam and lighting.
What facility upgrades are necessary to use FauxFire?

There is specific equipment and facility services that must be designed and installed in order to support the Technifex supplied FauxFire equipment.  These include:
The boiler system.  Unless only a small amount of FauxFire is required, Technifex does not usually furnish and install the steam boiler for use in creating the FauxFire effect.  This equipment is usually most cost-effectively obtained locally, by the client.  However, Technifex will clearly specify the boiler requirements based on the number of appliances to be used, the intended "flame" height(s), the operational frequency and duration, and anticipated steam losses in the piping between the proposed boiler location (equipment space) and the FauxFire® location.
Plumbing and electrical wiring required by the FauxFire appliances, between the equipment space and the appliance location is usually furnished and installed, to Technifex's specifications, by facility contractors who are hired by the client or project owner.  The service runs installed by the facility contractor should also include the steam piping and condensate drain lines.
Upgrades to HVAC work may be necessary to handle the extra heat and humidity loads created by the FauxFire effect.  Technifex will provide information relative to anticipated heat and humidity loads to the facility mechanical engineer.  It should be noted that these heat and humidity loads are generally fairly modest.
What is generally required to operate FauxFire®?

Permanent FauxFire applications require a steam source (boiler system), with facility-furnished distribution piping from the boiler location to the FauxFire location.  A facility drain (or drains) at the appliance location is required to handle the condensation created by the steam.  In addition, electrical power is required for the appliance lighting system and for the animation blowers, and, if selected for control of the optional solenoid-operated steam valves.
Regarding steam delivery pressure, FauxFire appliances are designed to operate properly with 90 psi at the steam stub-up location.
Power Requirements: (Power requirements will vary depending on which FauxFire options are selected)

Valve/Fan Switch: 120VAC 20A(Must be same phase) 1/2″ Conduit
CBX-ST Box and/or D-Box: 120-240VAC 10A 1/2″ Conduit
FauxFire Main Control: 120-240VAC 10A 1/2″ Conduit
Where do we get a boiler?

There are a number of boiler manufacturers, with representatives in most areas.  For gas-fired units, you may contact local representatives of Parker Boiler Company (www.parkerboiler.com), McKenna Boiler Works (www.mckennaboiler.com) or Lattner Boiler Systems (www.lattner.com).
Electric boilers can be furnished by Sussman Electric Boilers (www.sussmanboilers.com) or Electro-Steam Generator Corp. (www.electrosteam.com).
The boiler manufacturer representatives can, in most cases, help with the installation and startup of the system, and can provide operational and maintenance training.
Standard mechanical systems requirements.

Facility-provided stub-ups for steam, electrical power, and control lines (if used) should be provided within 3 feet of each appliance.  Additionally, one or more drains to a facility sanitary sewer should be provided at or near the effect locations, to dispose of the condensation.  Each appliance creates between 1/2 and 1 gallons per hour of condensate.
What should the boiler system include?

Typical boiler systems include:
A steam boiler, which may be gas-fired, or, in some applications, electric.  The boiler must be rated for continuous delivery of the required steam volume and pressure.  Note that boiler delivery ratings assume that incoming water from the feed system is at or near 212° F.  If cool or cold facility water is used, the boiler output must typically be de-rated by 25%-30%.  The boiler manufacturer can assist with this consideration.
A feedwater tank and pump to keep the boiler charged with water
A chemical treatment tank and metering pump, to assist in preventing boiler scale
A water softener, to minimize mineral content that creates boiler scale
An ASME-rated blow-down tank, into which the boiler steam may be safely discharged when the boiler must be shut down, or in the event that the safety pressure valve opens.
Is a warranty provided for FauxFire® equipment?

Technifex Products provides a conditional one-year warranty on FauxFire equipment.
Pricing

Because of the many variables associated with any particular use of FauxFire systems, it is only possible to provide pricing information on a case by case basis.  Technifex can determine the cost of a system once we clearly understand the proposed placement, quantity and use of the FauxFire equipment.  We generally do this through conversations with our clients and careful examination of client-furnished drawings and related documents. Standard FauxFire units come with the FauxFire manifold, a single manual valve for adjustment of steam height, one to three animation blowers (depending on the length of the appliance), Unitizing frame and electrical interconnect boxes.